The biopharmaceutical industry is booming. Thanks to advances in medical science, there are more opportunities than ever to develop new and innovative treatments for various diseases and conditions. However, starting a business in this field is not without its challenges. This guide will look at five essential things you need to do when starting a business in the biopharmaceutical industry.
Do Your Research
The first thing you need to do when starting a business in the biopharmaceutical industry is to do your research. This means getting acquainted with the various regulatory agencies that oversee the industry, such as the FDA and DEA, and understanding the approval process for new drugs and treatments. It's also important to have a solid grasp on the financial side of things, such as how to raise capital and what kind of investments you'll need to make.
Additionally, you also need to know about the industry itself. Here are the essentials.
Market Value
The market is estimated to be worth nearly $300 billion. The industry is growing at a rapid pace, with an estimated compound annual growth rate of 9.6% between 2016 and 2022. It has a good chance of reaching around one trillion dollars in 2030.
Major Players
Several major players in the industry include Pfizer, Johnson & Johnson, and Merck. These companies significantly impact the direction of the industry and the products that are developed.
Key Trends
Some key trends in the biopharmaceutical industry include personalized medicine, 3D printing, and nanotechnology. These trends are playing a significant role in shaping the future of the industry.
The biopharmaceutical industry is a complex and ever-changing one. However, you can become competitive when you start by doing your research and understanding the basics.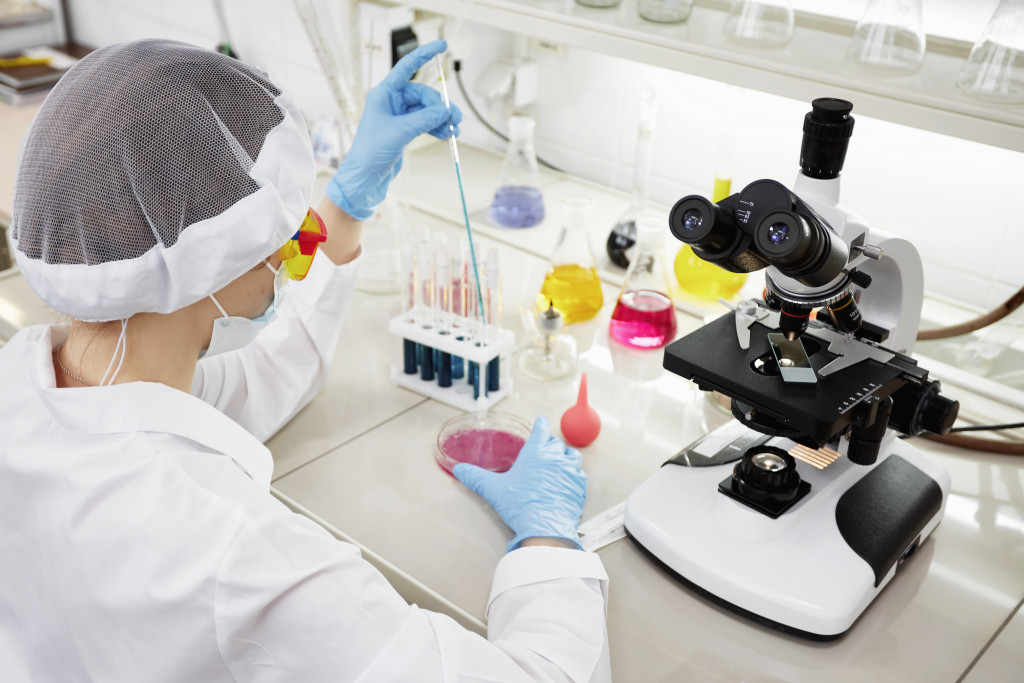 Find a Niche
One of the keys to success in any business is finding a niche, and the biopharmaceutical industry is no different. There is a multitude of different products and services you can offer in this field, so it's important to find an area that you're passionate about and where you can excel. Then, once you've found your niche, you can build a brand around it that will set you apart from the competition.
Build a Strong Team
To be successful in the biopharmaceutical industry, you'll need to build a strong team of experts who can help you navigate the complex landscape. This team should include people with experience in medicine, law, finance, and marketing. By assembling a group of talented individuals who complement each other's skill sets, you'll give yourself the best chance for success.
Secure Funding
Bringing a new product or treatment to market is an expensive undertaking, so securing funding from private investors and government grants is vital before you get started. Make sure you have a solid business plan in place so potential investors can see the potential for your venture. Here are some ways you can secure funding for your business.
Capital Venture Firms
One way to get funding for your business is to approach capital venture firms. These firms invest in early-stage companies with high growth potential.
Government Grants
Another source of funding is government grants. The Small Business Innovation Research (SBIR) program and the Small Business Technology Transfer (STTR) program are two examples of government programs that provide funding for small businesses.
Follow the Essential Standards
Biopharmaceuticals are filled by regulations that you must follow. Here are some of the essentials:
Biopharma Manufacturing
If you're planning to start your own biopharma manufacturing company, you must adhere to strict codes. One of these codes includes the ASME BPE dimensions engineering standards. This will help guide how to build your facility and equipment. You must follow this standard if you don't want your business to be interrupted by regulations. If you don't know what this is, consider hiring a consultant to help you out.
FDA Regulations
You must also familiarize yourself with FDA regulations. These include guidelines on Good Manufacturing Practices (GMP), which dictate how you must produce your products. In addition, there are guidelines on clinical trials, which you'll need to follow if you're planning on bringing a new drug or treatment to market.
IPR and Licensing
Intellectual property rights (IPR) and licensing are also important considerations when starting a business in the biopharmaceutical industry. For example, if you're planning on developing a new drug or treatment, you'll need to have the proper patents and licenses to protect your investment.
Following the standards in bio-manufacturing, FDA regulations, and intellectual property rights will help you avoid any legal issues down the road.
Starting a business in the biopharmaceutical industry is no small undertaking. However, by following the tips outlined above, you can give yourself the best chance for success. With a solid foundation, you can build a thriving business that makes a difference in patients' lives worldwide.