Experienced truck accident lawyers always have their hands full. Every year, roughly 130,000 people suffer from truck accident injuries. Male drivers made up 97% of large truck driver fatalities in 2018. Common reasons include fatigue and inexperience. But it might not be a gender-related issue since only 5.8% of truck drivers are female.
Besides, the cargo itself is partially to blame for many fatalities. In 4% of fatal collisions, hazardous materials are present. These include flammable liquids, which increase the chances of fatal accidents in trucks that carry them.
But of course, no accident will happen if drivers are skilled and experienced in the first place. Even if they're carrying hazardous materials, their lives won't be at risk because they drive safely. But sadly, the trucking industry seems to worsen every year when it comes to careful drivers. Since 2009, a 52% increase in truck accidents has been noted.
The ongoing shortage of truck drivers isn't helping. According to the American Trucking Association (ATA),  the trucking industry could be short of about 100,000 drivers in five years and 160,000 in 2028. Is this shortage forcing truckers to hire unskilled and inexperienced drivers, then?
Every truck driver should have had ample training and experience before venturing out into the road. And even if the drivers are experienced, they shouldn't go lax on the job. It's easy to take your safety for granted when nothing has ever happened to you. But the statistics don't lie, meaning every truck driver is always at risk of an accident.
Thankfully, technology has stepped into the industry and created driver safety apps. Below are the top ones every truck driver must use:
1. Roadtrippers
One of the ways trucks drivers can boost their safety is by planning their trips. Thanks to Roadtrippers, they can now do that conveniently. The app allows you to plan and save itineraries, collaborate with other users like your fellow drivers, and find information about your destinations. It's also suitable for personal trips, which is the main purpose of Roadtrippers. Overall, the app makes every driver more responsible and organized.
2. Android Auto
For drivers using an Android smartphone, Android Auto is a good driving companion. Just plug your phone into the truck's screen, and Android Auto will start assisting you. It will manage your media, messages, and navigation without requiring you to look at the screen.
It also reads texts aloud, eliminating the need to text while driving, which causes many accidents. Naturally, it lets you respond to messages via your voice as well. The only downside to this app is that the truck should be a new model. Old trucks that don't have navigation screens can't support this app.
3. AutoMate
AutoMate is an alternative to Android Auto, boasting the same features. But it's also equipped with onboard diagnostics and torque integration, giving it a slight edge over its competitor.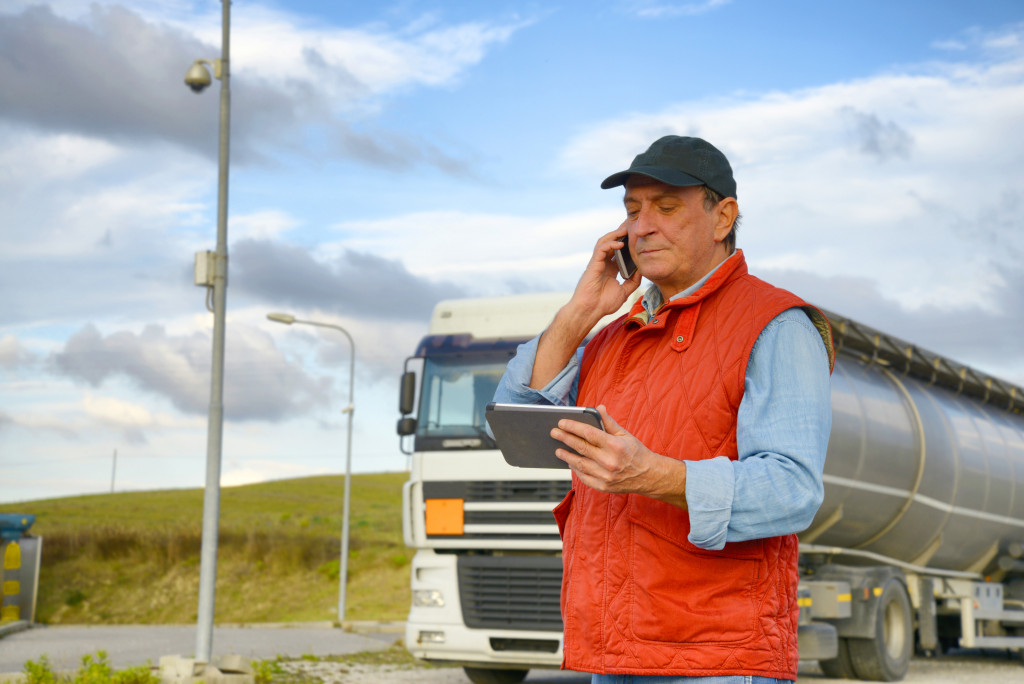 4. Drivemode
Drivemode is another perfect app for Android users. It responds to voice commands and supports several navigation apps like Google Maps and Waze. Google Assistant is integrated in it, allowing users to have their texts read aloud to them. The app also allows the temporary silencing of notifications, preventing drivers from getting distracted behind the wheel.
5. GasBuddy
If your fleet operator has begun a cost-saving strategy, using GasBuddy will allow you to help them reach their saving goals. As its name suggests, GasBuddy lets you find the best fuel prices in your area. It also has Pay With GasBuddy and Pay With GasBuddy Premium plan. They can help you save at least five cents per gallon.
6. GPS Speedometer and Odometer
To discourage yourself from speeding, download GPS Speedometer and Odometer. It uses your phone's GPS to track your speed. The findings aren't 100% accurate, but it would still give you a good indication of how fast you're going. Aside from your average speed, it also shows the total distance you've traveled, maximum speed, and more. This helps you keep a record of your tasks more conveniently.
7. MileIQ
Like the previous app, Microsoft MileIQ allows you to save your driving data, including your travel expenses. This makes record-keeping and tax filing much easier.
8. HERE WeGo
Unlike most apps that require an internet connection, HERE WeGo doesn't, and in fact works better offline. It allows you to download and use maps offline as you please. The only catch is, it's not as updated as Waze and as informed on businesses as Google Maps. Still, it's a handy app when network is unavailable.
These apps can let truck drivers keep their eyes on the road, even if they have to deal with messages and calls. If more drivers use them, the number of accidents in the coming years could decline.