To reach more customers and get your business name out there — you need a plan for marketing in the digital space. Knowing where to start or what platforms will work best for your business can be difficult. This guide will help you understand how to market your business online. With a bit of effort, you can reach a whole new group of potential customers!
1. Know Your Target Audience
The first step to marketing your business online is understanding who your target audience is. Knowing who you want to reach will help you determine what platforms to use and what type of content to create.
If you are not sure who your target audience is, start by thinking about the following:
Who is most likely to buy your product or use your service?
What age group are they in?
What interests do they have?
Where do they live?
What devices do they use to access the internet?
Answering these questions will give you a better idea of who you should be targeting with your marketing efforts.
2. Choose the Right Platforms
There are a variety of different digital platforms that you can use to market your business. The best platform for you will depend on your target audience and what type of content you want to create. For example, if you are trying to reach a younger audience, platforms like Snapchat and Instagram might be a good choice. A platform like LinkedIn will be a better option if you want to create more in-depth content.
Here are some of the most popular digital marketing platforms:
Social media — Facebook, Twitter, Instagram, Snapchat, LinkedIn
Content marketing — Blogs, articles, videos, infographics
Paid advertising — Google AdWords, Facebook Ads, LinkedIn Ads
3. Create Engaging Content
Content creation is another excellent way to market your business online. Creating high-quality content helps show potential customers that you are an expert in your field. When writing blogs or posting on social media, include relevant keywords (which you can research using Google Adwords or a similar tool) so that people searching for those terms will be directed to your site.
In addition, try to focus on creating informative and engaging content — this will help encourage potential customers to keep coming back for more. Not only will this help you attract new customers, but it will also help you build a loyal following.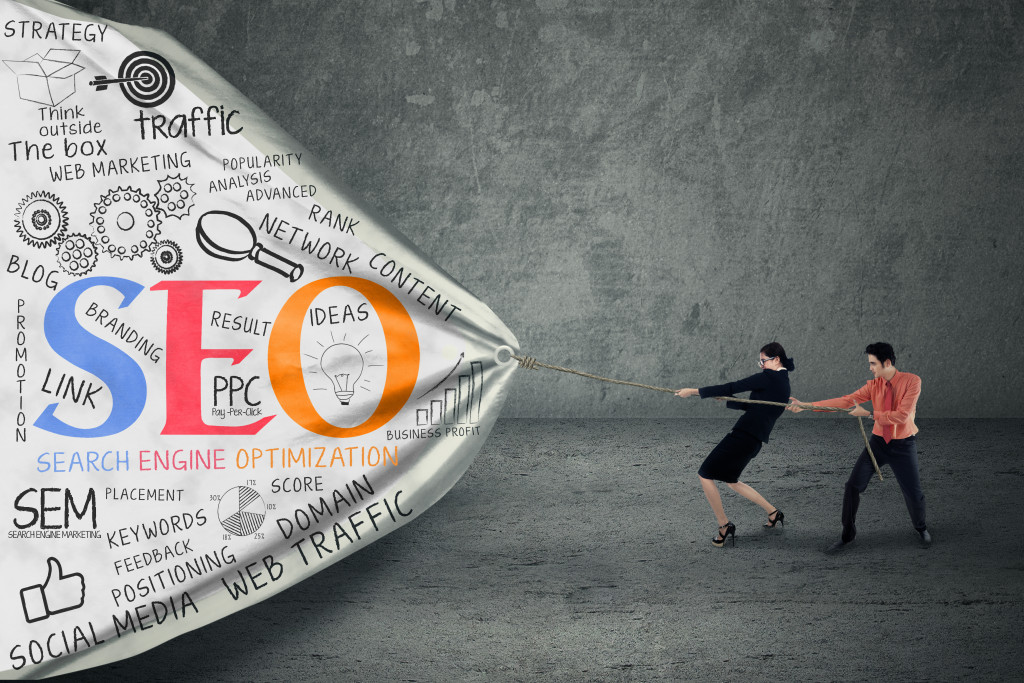 4. Invest in SEO
Search Engine Optimization (SEO) is the process of optimizing your website and content so that it appears higher in search engine results. This is important because it can help you attract more visitors to your site, which can lead to more customers and sales.
You can improve your SEO by doing things like including relevant keywords in your content, optimizing your website for mobile devices, and improving your website's speed. You can also use paid advertising to appear higher in search engine results.
5. Use Data to Your Advantage
Data is a valuable asset that can help you understand your customers and improve your marketing efforts. Use Google Analytics or a similar tool to track things like the number of visitors to your website, where they came from, and what pages they visited. This information can help you adjust your marketing strategy to reach more potential customers.
You can also use data to create targeted marketing campaigns. For example, if you know that a certain group of people is interested in your product, you can target them with ads or specific content.
6. Monitor Your Progress
Once you have implemented a digital marketing strategy, monitoring your progress and adjusting your tactics as needed is important. Keep track of your website's traffic, social media engagement, and conversion rate. This will help you identify what's working and what's not.
You should also regularly review your goals and objectives to make sure that your digital marketing strategy is still on track. If you find that you are not making the progress you want, don't be afraid to make changes to your strategy.
Digital marketing is a complex and ever-changing field. By following these tips, you can create an effective digital marketing strategy that will help you reach your target audience and achieve your business goals.
Marketing your business in the digital space doesn't have to rely heavily on paid advertisements. There are plenty of ways to reach new potential customers without breaking the bank — SEO keywords, backlink building, and content creation are all excellent (and free!) methods for marketing your business online. So what are you waiting for? Get started with your marketing today!