Many new business owners get frustrated when their company reaches the point of international shipping. This is mostly caused by the lack of preparation work done in advance.
Shipping overseas requires a lot of knowledge and preparation work before you ever pick up that first package. Here we will breakdown the steps it takes to prepare your company for international shipping adequately:
Figure out how to ship internationally
Figure out the ways you can send your products overseas. You may be able to ship items via USPS, UPS, or FedEx. Either way, take a close look at the restrictions and laws of the country that you want to import to before shipping your first package.
For example, if you are shipping to China, you must abide by their laws and regulations. You may also need a special license or permit to ship to that country.
Understand the shipping costs and method of delivery for international shipments
Shipping costs and the delivery method can vary greatly depending on the country you are shipping to. It is essential to understand these factors before you make your first shipment.
Factor in foreign currencies in shipping costs and delivery partners in other countries. The foreign exchange rates can change daily and affect your business, so consider this before you begin shipping. You may want to consult with a US Forex broker about it.
Some delivery methods include sea freight, air freight, and courier services. Sea freight is generally the cheapest option, but it can take a long for your products to arrive. Airfreight is more expensive, but your products will arrive much faster. Courier services are the most costly option, but they offer the quickest delivery time.
It is important to remember that these delivery times are only estimates, and they can vary depending on the destination country and the type of product being shipped.
Additionally, you will need to factor in the cost of shipping insurance, duties and taxes, tariffs, and other fees.
Get a customs broker to help you with all your export paperwork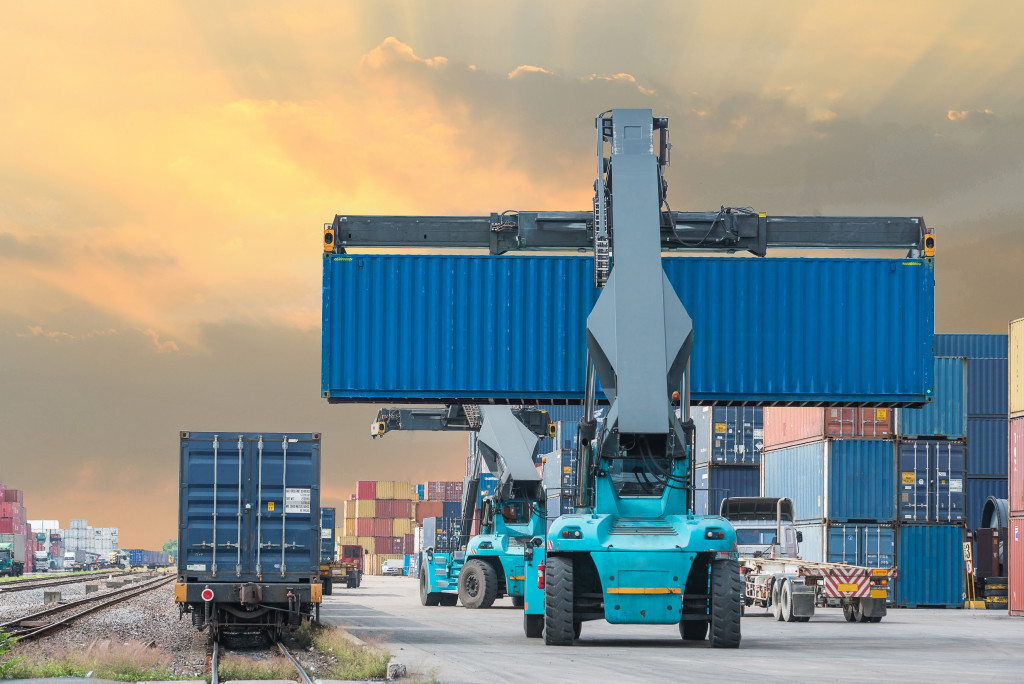 A customs broker can help business owners with all the export paperwork needed to ship internationally. This includes commercial invoices, packing lists, and certificates of origin.
They can also help you navigate through different countries' complex laws and regulations. This can save business owners time and hassle when shipping their products overseas.
A customs broker is a valuable resource for any business looking to expand into new markets.
Be aware of any regulations, including import duties or restrictions on what can be shipped where
Not all products can be shipped internationally. You will need to research the products allowed in the destination country and the countries you want to send items to.
You can also check each product's shipping restrictions on Amazon, eBay, and other eCommerce platforms you sell your products on.
Learn about international trade laws so that you are compliant with them when shipping overseas
It is crucial to learn the laws about international trade because they're responsible for protecting you from penalties and fines. Trade law is a complicated topic, so many resources are available to help you learn it. There are even online courses available that can teach you what you need to know in a short period.
When dealing with these laws, it's important to understand every country's different rules and regulations. For example, when exporting from the US there may be restrictions on what products can leave the country.
In Saudi Arabia, it's illegal to export certain items such as alcohol or pork products, regardless of whether they are being sent to another person or business within the country. If you are aware of these regulations, you can avoid issues when preparing the shipment.
Create detailed packing instructions
If you have a complicated or custom order, it's vital to have detailed packing instructions so that your overseas partners know precisely how to pack your items. These instructions may include specifics of how each item should be packaged and any other important information, such as how much bubble wrap is needed for fragile products.
The need for these detailed packing instructions will vary depending on the type of items being shipped. For example, if you are shipping clothing, then you will need to include the size and color. If you're shipping furniture, you will need to include the types of screws that are required and all necessary pieces like handles and knobs.
It also helps if these packing instructions are translated into the destination country's language.
Don't Let International Shipping Intimidate You
Shipping internationally is a complex process that requires careful planning. The more preparation work you do, the smoother your first shipment will go. All you need is to keep these tips in mind, and you'll be on your way to shipping success.