The current events in Europe have brought to light just how needless and devastating war can be—especially for the working class and regular people who stand to gain nothing from international conflict. Now more than ever, we need to honor the work of our men and women in uniform who don't have a say on whether a war should be waged or to call for peace—they just follow orders and protect their nation as to the best of their ability.
If you are part of the private sector or simply an individual who values the sacrifice of our army veterans and those in active service, here are some practical ways to help and support them:
Support their businesses
If you know army families or veterans who are trying to establish a business, support and empower them. Buy from them, promote their products and services online, avail of their offerings. There is also a provision for disabled army vets who want to start profit-making ventures—they just need to have their business be approved as a Veteran-Owned Small Businesses (VOSB) or Service-Disabled Veteran-Owned Small Businesses (SDVOSB), to receive assistance from the United States Small Business Administration.
If you are part of a bigger corporation or know your way around running a business, you can also help them learn more about how to become better entrepreneurs by connecting them with business firms or consultants who can help them gain this status and thus receive help from the federal government.
Help give them access to medical care or mental health support
Here are some devastating statistics about the plight of our veterans:
At any given point, about 20 percent of veterans struggle with post-traumatic stress disorder (PTSD). Those who served in the Vietnam War are even more prone to this, with 30 percent of them experiencing this disorder.
About 60 percent of wounded service members also suffer from traumatic brain injury.
These are just some struggles that our veterans experience—some of them even have to combat homelessness and suicidal thoughts and ideation. We have to contend with the fact that we send men and women to war, but we don't necessarily give them the holistic support they need once they return. This is why providing them with medical care and mental health support is crucial. Individuals can partner with existing non-profit organizations that are already working in these endeavors. Some examples include Wounded Warrior Homes, Disabled American Veterans (DAV) Charitable Service Trust, Hope for the Warriors, and others.
If you are a key decision-maker in your company, consider adding this advocacy into your corporate social responsibility (CSR) as well.
Lend a helping hand to the families of those in active service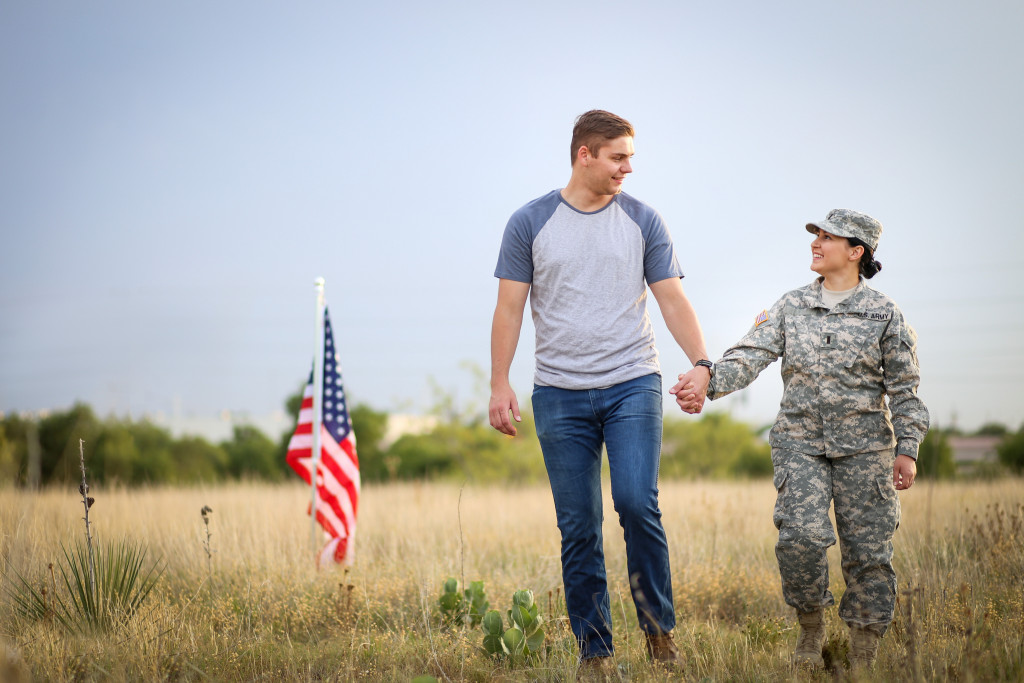 Deployment stress affects families in deep and irrevocable ways. Army spouses and families often struggle with the following feelings:
Panic, concern, or worry
Concern over being loved and needed
Loneliness, sadness
Understanding each other and what they have been through
Added responsibilities and family duties
Dealing with their issues and problems on their own
Learning new skills, making new friends
Financial challenges
Fear for their service member's health and safe return
Feeling overwhelmed
When we talk about the well-being of our service members and vets, what often gets lost in the conversation is how their spouses and family members are coping as well. If you know army families in your area, consider dropping by their homes to extend support and help. Even your presence is already such a big help. Don't presume about their struggles; avoid giving them advice. Just listen to them and validate the difficulty of their lived experience without putting yourself in the center. They will be grateful for it.
Perform household chores or home repairs
Another way you can truly extend support is by helping them finish day-to-day tasks that their injuries might make difficult for them. For example, if any of them needs driving to and from the hospital or if they need help to get their groceries, consider helping them accomplish these tasks. The elderly vets especially need help with simple tasks like this, especially if they live alone, so be more mindful about the vets in your area who might need assistance.
Nothing expresses gratitude more than extending support and help, no matter how simple the act might be. Even the simple task of saying thank you and meaning it can go a long way in helping them know their sacrifice was worth it. Find ways to say thank you to men and women in uniform today. At the end of the day, we are all in this together.