The pandemic has moved almost every business and industry online. You would be hard-pressed to find a company, big or small, that has no social media presence. It seems as if everyone is scrambling to get a piece of the viral pie, and every day it's becoming increasingly difficult to stand out.
Here are some tips to keep your feed fresh and engaging in a saturated digital landscape.
Create a solid social media strategy.
A good social media strategy is simply a list of goals you want to achieve and a plan to achieve them. It includes three things:
Goals. Setting S.M.A.R.T. (specific, measurable, achievable, relevant, and time-based) goals will keep your posts purposeful. How much growth do you want to see in terms of followers and engagement, and what will help you achieve that growth? Having a concrete target will keep you from posting aimlessly.
Knowledge of the target demographic. You must have a thorough knowledge of your target audience—what keeps them engaged, what's relevant to them at this time of their lives, and what catches their attention.
Calendar. Having a posting schedule and sticking to it will keep your upload times consistent, keeping your audience interested and loyal.
Come up with exciting posts.
Some ideas for engaging content include but are not limited to:
Blog posts. While short-form platforms like Twitter have greatly decreased audiences' capacity to consume long-form articles, blogs remain a highly effective tool for informing and entertaining audiences.
Vlogs. Video blogs, or vlogs for short, have taken the digital marketing world by storm in the last decade or so. It gave rise to internet personalities and influencers, and the business world will do well to use it as a tool to drive sales and promote content.
Information about your company or business. Share your company's history, culture, values, mission, and vision. It will increase brand awareness and help your audience get to know more about your business and your goals. Write about your company or business' story and link it to your social media accounts.
Photos from company events. If your business took part in worthwhile activities like a fundraiser or a charity event, sharing it on social media is a great way to spread awareness.
Industry updates and news. Follow reputable news sources and share interesting and relevant news updates about your industry.
Interactive posts. Upload posts that will give people a chance to respond with more than just a yes or a no. Ask them how their day is going or for their opinion on non-controversial topics.
Product videos. There is no better place to showcase your products than your social media platforms.
Customer reviews and feedback. Research shows that 88% of consumers trust online reviews as much as personal recommendations.
Life hacks and advice. Some of the most shared content are how-to guides. Find topics that are relevant to your audience's needs and provide tips and advice.
GIFs or memes. Make your mark in the digital world by posting relevant and witty GIFs or memes. Don't overdo it, though—keep your target demographic in mind and make sure it's inoffensive.
Raffles, contests, or giveaways. There is no greater incentive for users to share content than the possibility of winning a prize.
Holiday posts. Take advantage of the season and post content that users can share with their loved ones, like touching holiday cards and greetings.
Helpful infographics. Infographics are also some of the most shared content on the internet.
Interviews with industry leaders. The internet has allowed ordinary people to become hosts and interviewers. Get in touch with your industry's most trusted and influential leaders and invite them to speak to your audience. Make sure the topics are engaging and significant to your target demographic.
Announcements and promotions. Your social media platforms are the best place to announce and promote your business' activities, especially in a post-COVID-19 world.
A daily, weekly, or monthly series. Give your audience something to look forward to with a daily, weekly, or monthly series. It will make them feel like they have invested from the beginning.
Short-form videos. The rise of video platforms like Tiktok and Instagram Reels has given audiences the chance to consume bite-sized content. They can be shot in a few minutes, only require minimal editing, and are perfect for sharing.
When in doubt, hire professionals.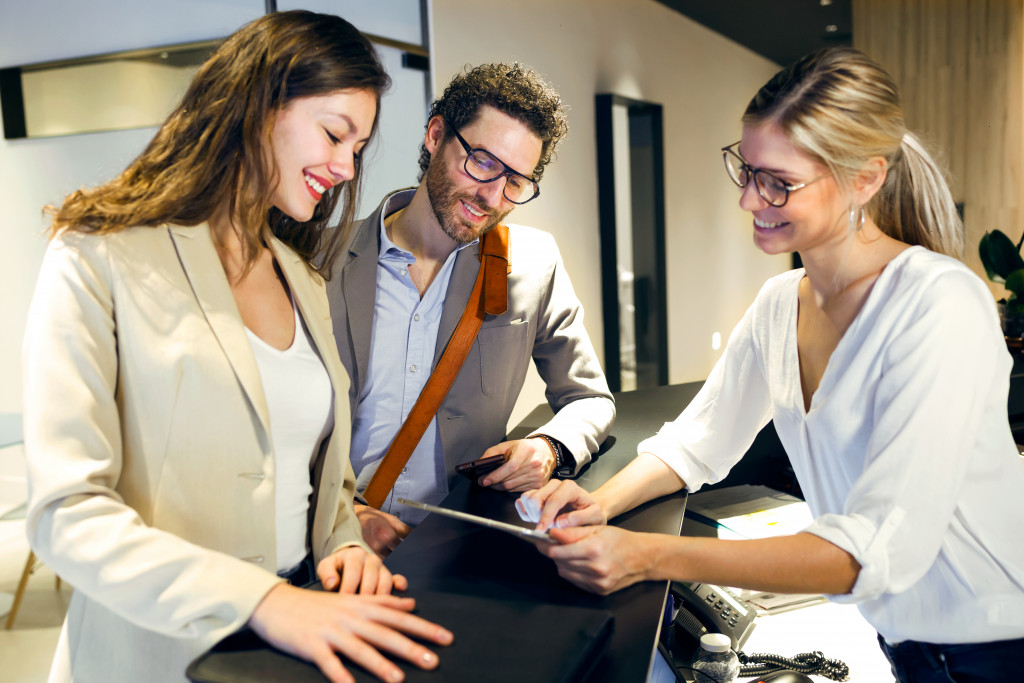 There is a reason a whole marketing and advertising industry exists. Some people specialize in this field; people who know the ins and outs of an ever-evolving landscape. Don't hesitate to consult with offshore graphic design experts, marketing specialists, and other professionals to help you stay on top of the trends. Your business will thank you for it in the long run.