To a certain extent, we all have become homebodies during this pandemic. And because of this, we give so much attention to the aesthetic and comfort of our living spaces.
A living room is an excellent place to embody an insightful lounge area, as evidenced by an art wall such as a stylish American Flag Wall décor to show your patriotism, combine different throw pillows, open storage containers, and exciting furniture.
If you have a big living room, here are ten tips that you can follow:
Create a layout
Regardless of how small or big your living area is, a proper layout is always an excellent way to start designing it. It usually depends on the shape of your living room; carefully plan the spacing of your furniture. You can either opt for a balanced spacing of your sofa bed or designate a space for a study area or a dining table.
Follow a color pallet or theme
This is probably the essential point in making your living room aesthetically pleasing. In choosing a theme, go with what you envision your home to feel like. Your chosen theme must then correspond to your color pallet. One tip: do not pick equally intense colors.
Add lighting fixtures
More extensive living space is an excellent opportunity to add a chandelier, a floor or a table lamp, and warm ceiling lights. It does not have to be scattered all over the place. Just align it to your theme and layout, and your living area will indeed feel much homier.
Good lighting adds another dimension to your living room, helps create warm and cozy nooks, and adds interest to your living room's most prominent features. All it takes is the excellent combination of lights and shadows to breathe new life into a space. A design team or interior decorator may design a layout of fluorescents into their plans for your interior, which will do significantly less justice to the elegance of what they have created. It is wise to contact lighting experts who will collaborate with your interior designer to increase the value of your living room.
Invest in quality and comfortable couch
A living room is usually the place where not just you and your family can hang and chill but also your friends and visitors. That is why a sofa bed is a staple and should therefore scream comfort and peace.
An accent wall does not harm.
An accent wall can add a particular atmosphere to your living room. It makes your space anything but bland. Just choose a specific color that is not far-fetched from your pallet, or even a textured wall will do just fine.
When it comes to choosing your new accent wall, think beyond the conventional dull colors.  You are not restricted to painting the wall with a layer of white paint. Take into account other applications for your chosen bold paint color. The streaks on your accent wall or the particularly unique paint coating on your accent wall may be perfect for you. Bright colors make strong style choices when used as an accent wall.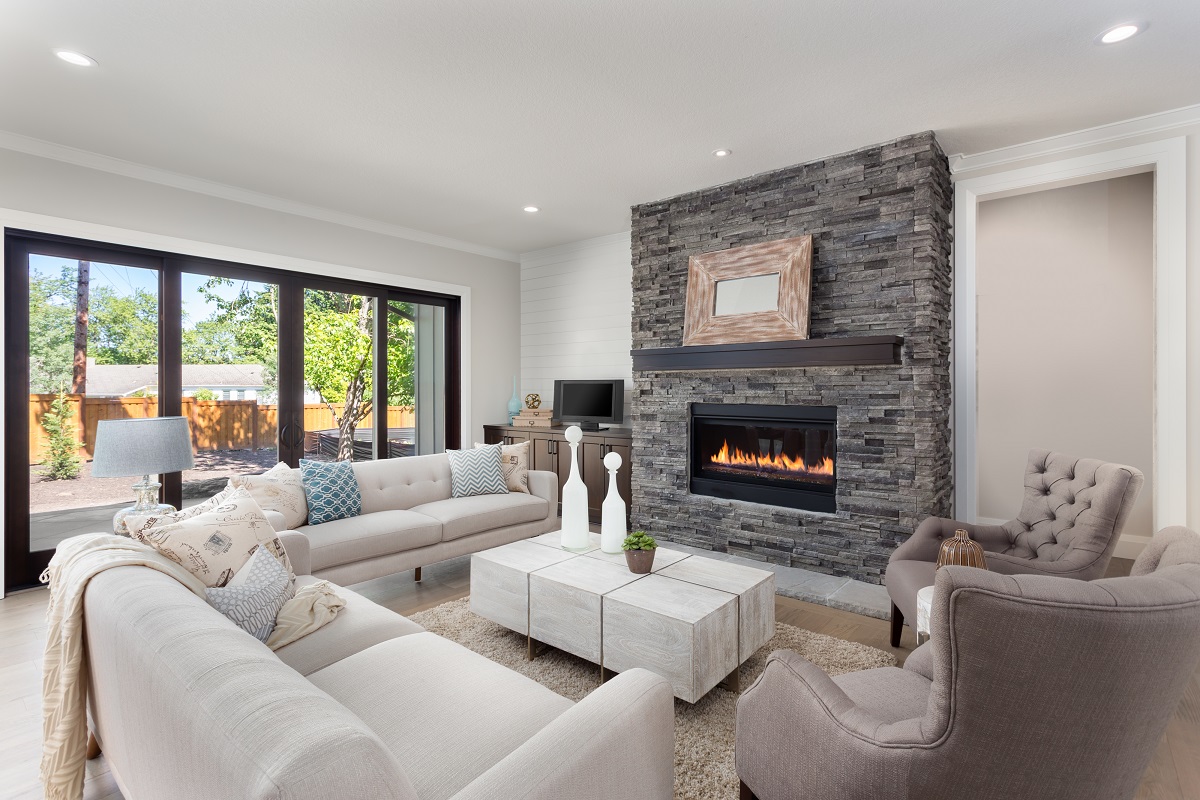 Make use of what you already own
A living room is one way wherein outsiders whom you invited can get a glimpse of your personality. If you have books, you can stack them properly and put them on display, or perhaps a memorable photograph of you and your dog.
Use plants
Not everything has to be industrial. Hanging plants, succulents, and other indoor plants soften whatever you have put up in your living area. Most importantly, a bit of greenery is more relaxing and eye-pleasing.
Use floor-length curtains
The art to making an illusion of a high ceiling is to use curtains that make it to the floor. Especially if you have shorter windows, do not cut your curtain according to the window's length, not even just a little below them.
A good rug is always a good choice
A rug makes a living room more inviting and welcoming. It also sends a sense of comfort and aesthetic to your space.
A well-chosen rug can characterize areas in a living room. Any places that can appear and feel un-homey will feel cozy as a result of putting a carpet. When it comes to selecting a rug for your living room, it can be tricky.
Avoid overcrowding
Even though your living room is big, do not be tempted to display anything to fill up the place. Perhaps an artwork is better than a massive piece of furniture.
It does not take an interior design graduate to transform your big living room ideas into reality. Instead, what needs to design it is strategy, creativity, and vision.